Tech PR for corporates
Never too big to fail 
Here at Luminous, we work with some nifty startups, as well as corporates with a global presence. A one-size-fits-all approach doesn't work when it comes to tech PR. The advice we offer to startups is very different to our work with corporate businesses.
This is because they're using PR to achieve different goals. According to Julie Zhou, product design VP at Facebook, startups "have one goal and one goal only: make something valuable enough that people will actually use it." Larger companies "focus on growing what is already successful."
In past posts, we've explored at length what tech startups can do to make sure their PR is on the top of their game. Now it's the corporates' turn.
As well as large budgets, corporate businesses also have large teams. These may work across different departments, and even locations. Encouraging these distinct teams to work in unison is the biggest problem. If you work for a tech corporate and want to improve your company's in-house PR and comms activity, try these agency suggestions to keep teams communicating consistently.
Streamline your sign-off 
Don't get us wrong: being big has many advantages. Corporates have the resources, budgets, and reputation that most startups can only dream of.
Unfortunately, the ability to move fast is not one of those advantages. It's not because corporate employees are sluggish – quite the opposite. When your company has a large number of stakeholders, sign-off procedures tend to be rigorous and thorough.
For example, if the marketing team at a corporate wanted to publish a media announcement about their partnership with another business, they'd likely need to receive the go-ahead not only from the heads of their own business, but the partner company too. When you consider that much of PR is reacting to events that are already making the news, this can be problematic.
Corporate comms teams that want to increase their PR activity need to create a process that can make sign-off as quick as possible. Talk with the heads of departments, and get their thinking on key topics likely to appear in the press. Find out what they're happy for the company to comment on, and which areas are a no-go. It's also worth creating a plan for media leads on a tight deadline. If you can't reach the CEO, for example, find out if they're happy for their deputy to comment. Journalists don't have time to hang around, so wasting time means missing media opportunities.
Take your social seriously 
Some of the biggest comms disasters for corporates often arise through their use of social media. Or rather, their misuse of it.
Remember British Gas's decision to run a Twitter chat on the same day they announced a 10% price increase? That didn't go well. The hashtag #AskBG was overrun by users criticising the energy supplier (often to great comic effect).
Dear British Gas, is it cheaper for one to burn £20 notes than put the heating on this Winter? #AskBG

— Prince Charles (@Charles_HRH) October 17, 2013
Likewise, there have been multiple examples of disgruntled employees (or more often, ex-employees) taking to social media to air their discontent with their employer. It's never good, but it can be much worse when your employee has access to the company social media accounts. HMV were already having a bad day when they had to make sixty redundancies. It became a lot worse when an employee started tweeting about the #hmvXFactorfiring…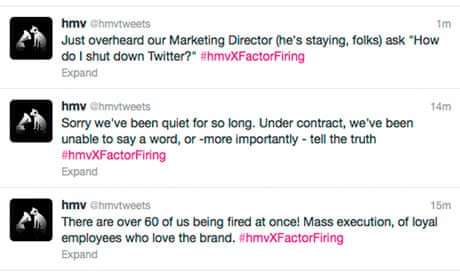 While people, by their very nature, are unpredictable, there are a few thing you can do to guard against it. Firstly, always consider how your content will be received by your target audience. If a corporate is under pressure from their customers or stakeholders, it's not uncommon for them to face some negativity on social media. If public opinion is particularly against you, try not to draw too much attention to yourselves.
It's also highly sensible to create thorough social media guidelines, and provide comprehensive social media training to any staff that will be managing or producing content for accounts. This should include topics such as tone of voice, appropriate content, and how to respond to any unhappy customers.
Managing crises 
Crisis management, or crisis communications, can be vital for larger corporations. The clever application of PR has the power to get businesses out of the trickiest of spots.
If things aren't going your way, and you're worried it might damage your reputation, crisis management PR can help. Find out exactly what your stakeholders are thinking, either by analysing social media, or by carrying out focus groups. In our digital age, national news can be international news in a matter of hours. Never ignore what people are saying about your corporation online, even if it's just a select few. Try setting up online alerts that will notify you whenever someone is talking about your business.
For the inexperienced, crisis management PR can be difficult. The wrong response can often make the situation worse. If your corporate is working in a sector with a tendency to make the news for the wrong reasons, consult with a PR agency specialising in crisis management before things go wrong. It's always much easier to resolve these things when you have a plan in place!
Don't forget internal comms 
We're big believers that employees make the best advocates for their company's brand. And not just the marketing department. The benefits of 'startup culture' are often discussed, but many young businesses lack the time and budget to create a thorough employee advocacy system.
Corporates are likely to have the budget, but not understand the need. They're also likely to need it the most. Large companies with distinct departments are at risk of disconnect, with teams unsure what their colleagues do. Despite the cliches, team-building activities are an effective solution.  Rather than rattling through a quick presentation and a trip to Nandos, use your imagination. Ask employees to propose problems faced by your business, and give them 8 hours to work together in teams to come up with a solution. A decent prize for the winners should provide suitable incentive.
Publishing a corporate magazine for staff is another possible solution. In fact, specialist internal communications agencies exist to do just that. It will need budget, but the right use of internal comms can create engaged, happier teams, raring to a great job for their employers. Benefits all round, we say.
Learn from startups 
When it comes to jumping on media trends, corporates could learn from their startup cousins. In our experience, startups are usually quick to spring into action to provide comments to the media. We've helped some small clients gain great coverage in this way, but the fact is that when you're small, you have to work twice as hard. Journalists are sceptical, and always prefer to use a comment from a business they've actually heard of – regardless of how good it is.
Many corporates are lucky enough to have a globally recognised brand, and yet are often frustratingly press shy. We get it: the stakes are higher for larger companies as they have a lot more to lose. Sometimes, though, you just have to be brave and jump in. With a little prior planning, of course.
Corporates should consider the line they want to take, and spend time developing thought leadership in that area. A great example of a corporate boss who's got this nailed is Virgin Money's Jayne Anne Gadhia. Ms Gadhia speaks frequently and openly to the press about her opinions on the glass ceiling and corporate culture. These opinion and profile pieces are still aligned with the tone and messaging of Virgin Money as a corporation.
The comms approaches used by startups and corporations may vary, but the principles at the heart of them remain the same. Keep your communications consistent, informative, and relevant, and you won't go far wrong. Oh, and know when to call in outside help…